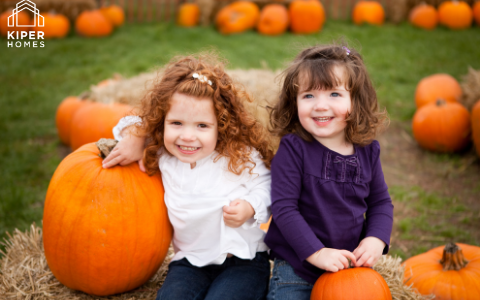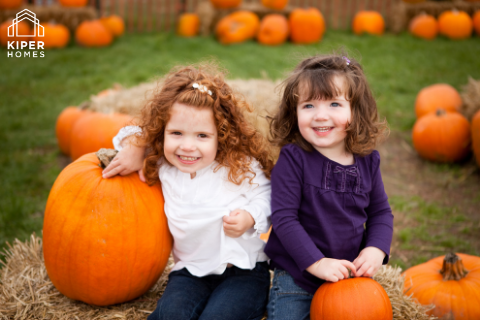 Fall is officially here! With many COVID-19 (coronavirus) measures still in place, Kiper Homes homeowners are managing to enjoy the season with some socially distanced family fun. Kiper communities throughout Northern California, including Hollister and Lathrop, offer countless opportunities for family fun inside homes, within respective communities and throughout the local areas.
Here are a few ways to have fun this season while maintaining social distancing guidelines:
Head to the Pumpkin Patch
Several pumpkin patches in Hollister and Lathrop are open for the 2020 season with several newly implemented coronavirus protocols. Known for its annual pumpkin maze, Dell'Osso Family Farm offers endless fall fun for River Islands homeowners in Lathrop. In addition to getting lost amongst the labyrinth of corn, visitors can also enjoy blasting pumpkins, picking pumpkins, walking the Haunted Castle and much more. The pumpkin fun continues in Hollister at Swank Farms where Westfield homeowners can enjoy pumpkin patches, sunflower fields, farm animals, haunted light trail and even a fall farmers market.
Boat Around River Islands
Just because the weather is getting cooler doesn't mean days spent on the water have to end. Homeowners at River Islands communities have the advantage of living adjacent to the San Joaquin River and Delta waterways where boating continues well into the fall season. Several River Islands homesites even offer shared private docks on manmade lakes where casting off on your people-powered boat or kayak is made even easier. With the waterways less crowded during the fall months, homeowners can enjoy quiet boat rides while taking in the area's scenic fall beauty. Pack a picnic, grab some warm clothes and head out on the water for some fall boating fun.
Take Advantage of Flex Spaces
Sometimes the best fall days are those spent at home. At Kiper Homes, we are building for the way homeowners live today by incorporating flexible spaces within the home. These unique spaces include lofts, flex rooms and bonus rooms. Add some bean bag chairs to create a comfy set up and have family-friendly activities like puzzles and movies on hand for home entertainment or create a unique home office or classroom as needed. Along with spaces inside, many Kiper homes also offer spacious outdoor living areas with California rooms, cozy fireplaces fire pits and more. These backyard spaces are perfect for fall evenings with the family or socially distanced with friends. Discover more flex space ideas here.
Go on a Fall Hike
The fall season is without a doubt the best time for hiking. With the weather cooling down a bit, homeowners can fully enjoy trekking the trails around their Kiper Homes community for some fall family fun. No matter the level of hiking expertise, homeowners can find a variety of local parks offering miles of walking trails and spectacular views of the area's beautiful fall scenery. From picturesque mountain trails to those running along the water, there is a perfect fall trail ready to be explored near a Kiper Homes community. Read up on the trails around Hollister and Lathrop here.
To learn more about the Kiper Homes communities throughout Northern California in Hollister, Lathrop and coming soon to Manteca, visit www.KiperHomes.com.