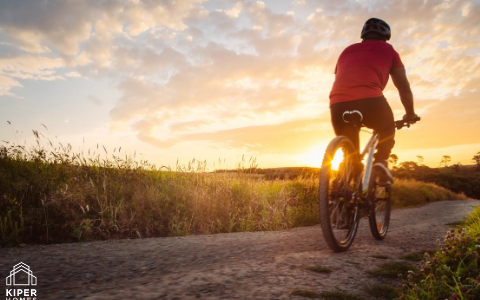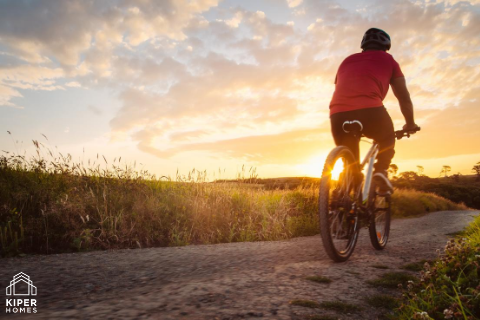 Put on your hiking boots, it's time to hit the trails! Northern California is home to several incredible parks filled with miles of trails to explore and Kiper Homes communities are right around the corner from them all.
Whether you're a just beginner or a hiking expert, there are numerous trails for you to explore near new Kiper communities in Hollister and Lathrop. Here are a few favorites among the Kiper team and homeowners.
Hollister
Spikes Peak Loop Trail – Hike amongst the wildflowers at Spikes Peak Loop Trail in Hollister's Pacheco State Park. This 7.2-mile loop trail offers a moderate level hike filled with flowered grasslands, spectacular views, shady picnic benches and steep rolling hills perfect for long hikes or mountain biking.
Coyote Creek Loop Trail – Not too far from Hollister in San Jose is the Coyote Creek Loop Trail. Located in Henry W. Coe State Park, this difficult 12-mile trail is worth the challenge with its blooming wildflowers, wooded sections and scenic sights. The trail is a favorite among experienced hikers, as well as birdwatchers and nature enthusiasts.
Dowdy Ranch Burra Burra Peak County Line Road Tie Down Trail Loop – Also located in Henry Coe State Park is the Dowdy Ranch Burra Burra Peak County Line Road Tie Down Trail Loop. Hikers in the area absolutely love this 15.6-mile trail for its beautiful wildflowers and steep climbs leading to picturesque vistas.
Lathrop
Manteca Tidewater Bikeway – Don't want to hike? Grab a bike and head over to Manteca Tidewater Bikeway in Northgate Park. This pretty, paved pathway provides visitors with an easy, relaxing ride through shaded trees and even into Downtown Manteca. While the trail is used primarily for biking, many visitors also enjoy exploring by foot.
River Islands Trail System – The beautiful master-planned community features an extensive trail system as one of the neighborhood features. Meander along the edge of the levee overlooking the delta waterways for a relaxing walk with friends or family.
Discover all the local hiking trails, recreation destinations and more available near Kiper Homes communities in Northern California. To learn more about new home communities, visit www.KiperHomes.com.