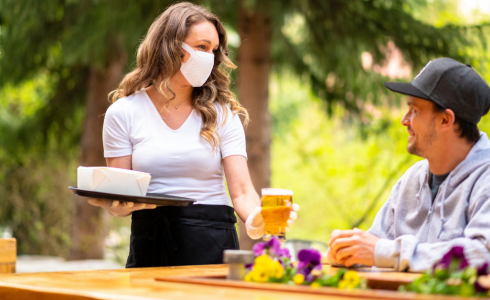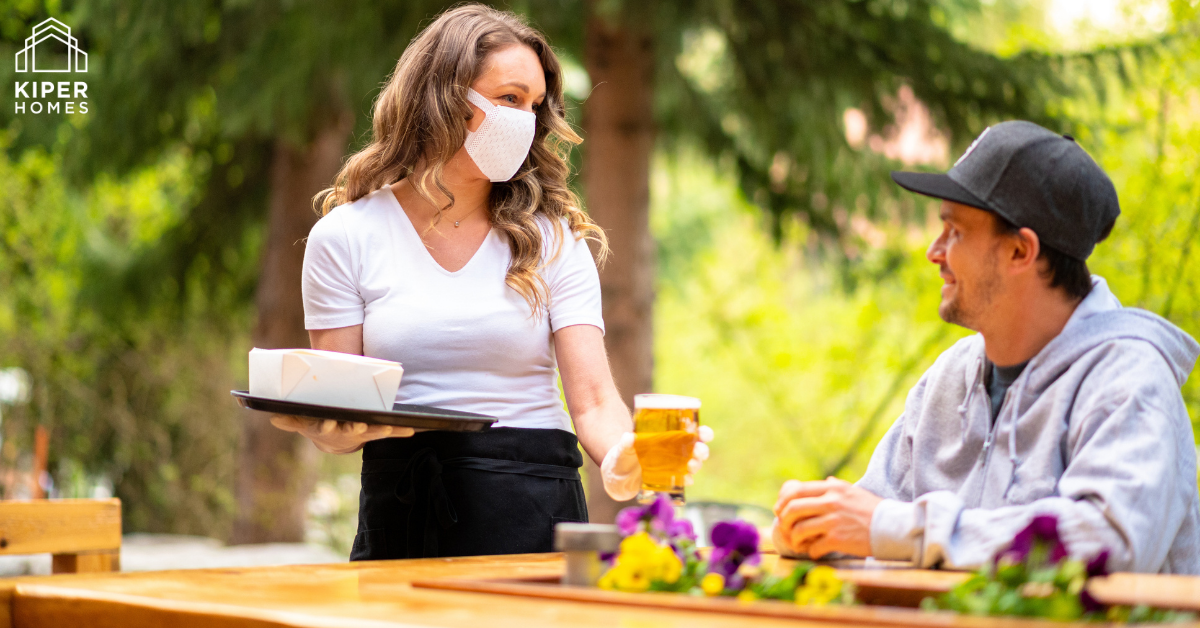 Days are longer, the weather is getting warmer and many restaurants are reopening to offer outdoor dining options. Not only does outdoor dining allow for proper social distancing, but it also offers patrons a more relaxed setting out in the fresh air.
Check out some of the most popular outdoor dining options near new Hollister communities by Kiper Homes:
Cozy Cup Café
Locally owned and supplied, Cozy Cup Café is one of Hollister's "best-kept secrets" featuring delicious food, fresh ingredients and superb service daily. From pancakes to burgers, this cozy destination is open for breakfast and lunch daily.
The Heavenly Bakery
Breakfast and lunch options continue at The Heavenly Bakery, in addition to fresh-made cakes, desserts, pastries and Ciabatta bread. The bakery also does private parties and catering, as well as serves local restaurants with its breads, cakes and pastries. Additionally, visit The Heavenly Bakery at the Hollister Downtown Association's Farmers Market every Wednesday from 2 to 7 p.m. from May through September.
Country Rose Café
Previously voted "Best Breakfast" in San Benito County and serving up breakfast and lunch daily, Country Rose Café features a blend of California-infused breakfast and American burger options.
Running Rooster
Serving up wood-fired pizzas, spit-roasted chicken and craft beers on tap, the Running Rooster is Hollister's go-to spot for casual dining.
The Inn at Tres Pinos
Offering carry-out options and full dining services on its outside patio, The Inn at Tres Pinos is family-owned and operated, offering country-infused cuisine "with a touch of class."
Seabrisa's Eatery
Locally owned and operated, Seabrisa's Eatery features an extended patio area to serve up its unique menu featuring a mix of seafood, American, Japanese, Italian and classic fish-and-chips.
Grillin & Chillin Roadhouse
From fresh burgers and street tacos to marinated short ribs, killer cheesesteak sandwiches and 16oz bone-in Tomahawk rib eyes, Grillin and Chillin Roadhouse has a widespread menu to offer a little something for everyone. Follow the Facebook page for the latest menu and hour updates.
3 Queens Carnitas
Offering authentic Mexican cuisine, 3 Queens Carnitas features a festive menu with nachos, burritos, carnitas, tacos, quesadillas, tostadas and more. Order carryout online or enjoy dining outside at 3 Queens Carnitas.
The Grove
The Grove features a full-service outdoor dining experience under its signature Manzanillo Olive Trees with accommodations for both warm and cool temperatures to keep patrons most comfortable. Enjoy an Asian-Mexican-fused menu Thursday through Sunday and a special brunch menu on Sundays.
Dunneville Café and Market
Featuring hometown flavor and deli sandwiches, Dunneville Café & Market features a patio with regulation bocce courts for patrons to enjoy.
Jardines de San Juan                                       
Locally owned and operated in San Juan Bautista, less than 15 minutes from the Hollister area,  Jardines de San Juan is currently offering a limited takeout menu in addition to margaritas and beer-to-go – yum!
Paine's Restaurant and Bar
A staple in Hollister since 1929, Paine's Restaurant and Bar offers a casual fine dining atmosphere and diverse menu featuring fresh seafood and wine tastings. Paine's is also available for catering and capable of hosting private events for breakfasts, luncheons, dinner gatherings, holiday celebrations and more.
The 19th Hole Booze & Food
Located in nearby Tres Pinos, The 19th Hole Booze & Food steakhouse offers outdoor seating and features popular bar food staples including wings, burgers, sandwiches, salads and steak dinners.
Ridgemark Golf and Country Club
The Bar and Grille at Ridgemark Golf and Country Club in Hollister is currently open for patio outdoor dining and carry-out. Ridgemark features a wide array of menu items including burgers, sandwiches, wood-fired pizzas and salads.
Starting from the mid-$600,000s, Northern California home builder Kiper Homes is currently building new Hollister homes at the master-planned Westfield development including Carousel and Mayfair. These single-family home communities feature both traditional two-story and single-story designs with solar included.
To learn more about new Kiper homes throughout Hollister, Lathrop and Manteca, visit www.KiperHomes.com/new-home-communities.