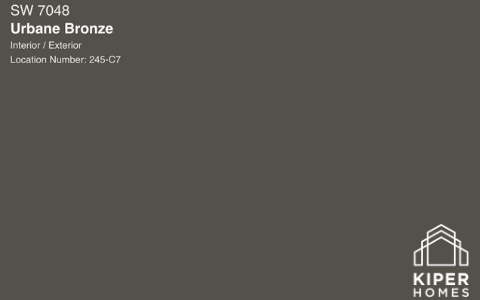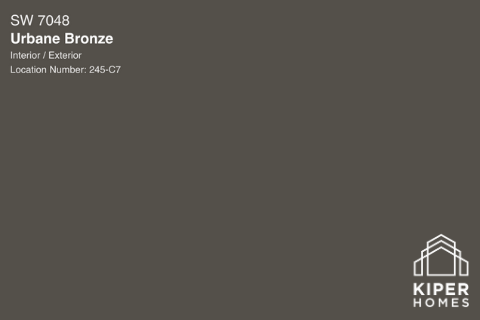 The year may not be over yet, but Sherwin-Williams has named Urbane Bronze as its 2021 Color of the Year. The top paint provider annually forecasts upcoming color trends and selects a Color of the Year, complete with suggested color pairings.
Now more than ever, homes have become the backdrop of our lives and the nature-inspired hues Urbane Bronze provides, serve as a reminder of the natural simplicity within them. For some home inspiration, here are a few ways our Kiper Homes team recommends incorporating this new color into your home spaces:
Mix with Natural Materials
Urbane Bronze has the ability to ground a space with organic appeal. As a result, it is no surprise that this warm, neutral shade pairs beautifully with natural materials that accentuate its organic beauty. Think of a mixture that includes rustic wood finishes, stone accents and mixed metals. These natural materials will complement the shade and help bring the earthy shade back to its nature-inspired roots. The tranquil hue also works well with other biophilic elements, so consider placing the color in light-filled spaces with plenty lush foliage.
Take the Color Outdoors
The warm neutral hues of Urbane Bronze inspire feelings of relaxation and serenity, which is what a home's living spaces are all about. The Kiper Homes team loves the idea of incorporating the shade into window trim, shutters and exterior doors, as well as using it for outdoor home features. An Urbane Bronze-painted fence, trellis, boxed garden or patio furniture are just a few examples of ways the shade can be easily used outdoors. The rich, grounding brown color with gray and green undertones pairs beautifully with the natural surroundings of outdoor spaces and helps to create a stunning contrast for a cozier backyard feel.
Use as a Focal Point
While neutral, Urban Bronze is also bold enough to be used as a statement color perfect for creating a focal point. While a classic statement wall is popular option for bedrooms or den spaces, the concept of an elegant statement fireplace is also one to consider. The warmth of the dark bronze shade draws the eyes toward the fireplace and makes the idea of cozying up around it even more enticing. Urbane Bronze is also the perfectly bold color for a statement island, bathroom cabinets, butler's pantries or even interior doors. Consider the home features you want to stand out and paint them this down-to-earth bronze shade.
All Around Color
Perhaps the best part about Urban Bronze is its incredible versatility throughout the home. While the color serves as a gorgeous accent shade, it can also stand alone as a primary color. When used as an all-around wall color in a bedroom, living room or office space, it creates a stylish and sophisticated look. Use complementing shades of light neutrals and gray to achieve an airier, minimalistic look or incorporate modern greens to enhance the shades darker, moodier feel. No matter how Urban Bronze is used as a primary color, it is sure to evoke overwhelming feelings of calm and serenity.
How would you incorporate the Sherwin-Williams 2021 Color of the Year into your new Kiper home? To explore Kiper Homes communities throughout Northern California in Hollister, Lathrop and coming soon to Manteca, visit www.KiperHomes.com.