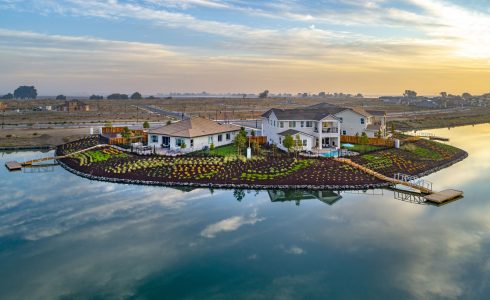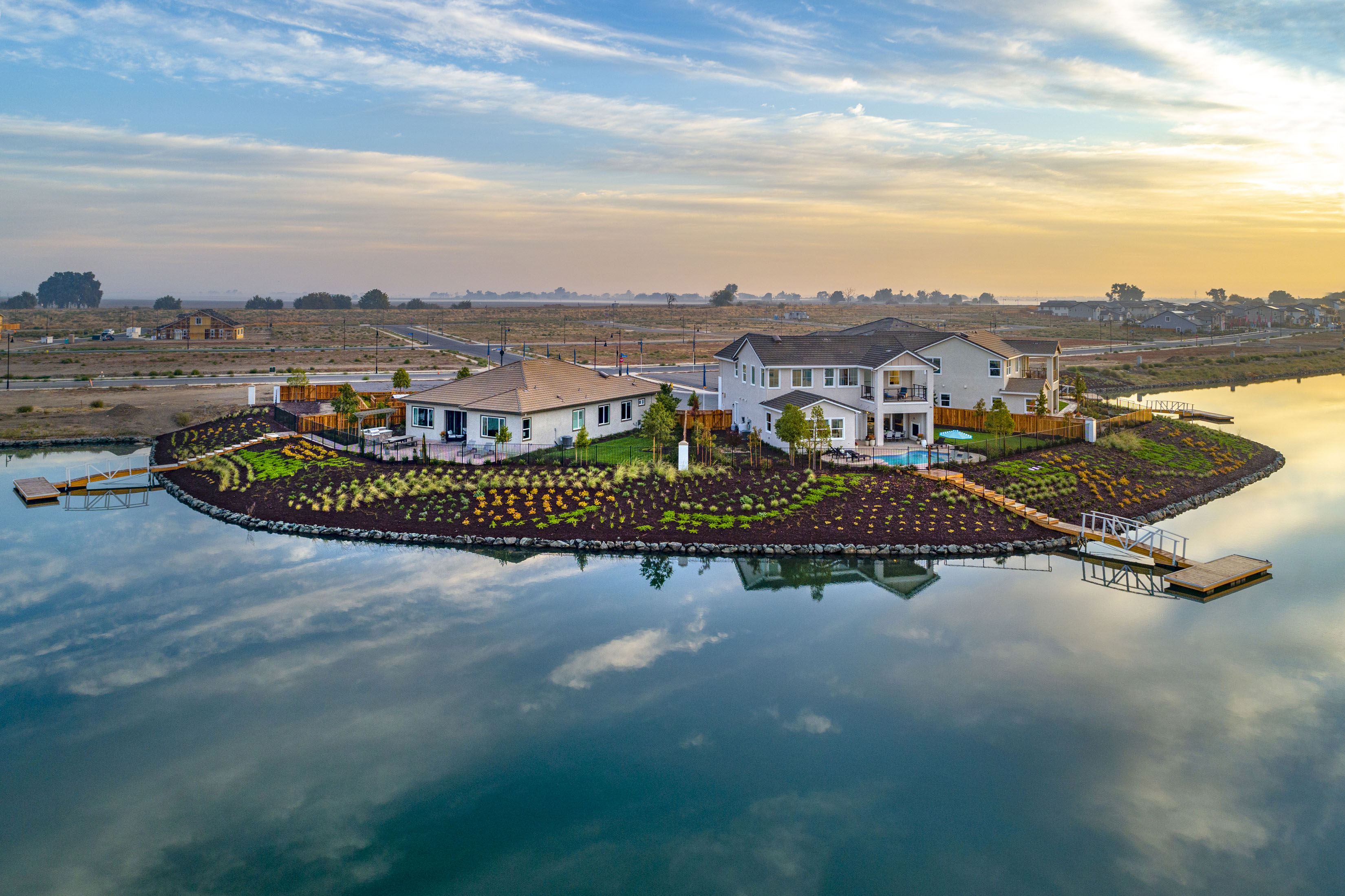 Northern California home builder Kiper Homes is currently building in several new River Islands communities, allowing home shoppers to discover waterside living and recreational options galore at this master-planned Lathrop neighborhood. Set against the beautiful backdrop of the San Joaquin River Delta amongst nearly 5,000 acres, master-planned River Islands combines the best of a water-oriented lifestyle to form an exciting community designed for residents to live, work, play and, most importantly, belong.
Communities within River Islands are designed to take full advantage of the neighborhood's natural setting and amenities while bringing together a community vision that is green, healthy, high-tech and in-harmony with the natural beauty that surrounds it. In addition to the nine schools planned within the development, River Islands will also boast a state-of-the-art business campus, downtown retail and much more.
Within River Islands, 11 lakes play a huge role in providing the waterfront lifestyle that homebuyers seek. Whether homeowners cast a kayak of their shared private dock, take a paddleboat to the Boat House or take a scenic bike ride through the miles of trails along the San Joaquin River, there is no shortage of opportunities for recreation and fun.
New River Islands communities by Kiper Homes include Balboa, Catalina, Catalina II and Newport. Select homesites include incredible lakefront locations and shared private docks, ideal for those looking to incorporate the waterfront lifestyle into their daily lives.
Balboa at River Islands
Coming spring of 2021, Balboa will stand as a shining example of what new home living should be. Homes at Balboa will boast up to 2,800 square feet of contemporary, clean, comfortable and casual living space. Home designs range from one to two stories with three-to-six bedrooms and two-to-four baths with flexible living spaces, perfect for home gyms, learning zones and dual offices.
Catalina at River Islands
Convenience and value come together to create the charming community of Catalina. Ranging from 1,900 to 2,380 square feet, homes at Catalina start from the Mid $500,000s and feature three-to-five bedrooms with two-and-a-half to three baths. Living at Catalina, homeowners enjoy proximity to the new, future location of River Islands K-8 Technology Academy, walking trails, parks and more. Thoughtfully designed and packed with an abundance of included features, the value of this community is easy to see.
Catalina II at River Islands
Due to popular demand at its namesake, Catalina II offers the same exceptional value found at Catalina and everything homebuyers are looking for in a new home along with a larger lot. Homes within the community are thoughtfully designed to offer up to 2,380 square feet of living space that includes three-to-five bedrooms, two-and-a-half to three baths, tons of personalization options and even SOLAR technology.
Newport at River Islands
Newport consists of 87 lakefront homesites featuring contemporary, open-concept designs and incredible attention to detail. Priced from the upper $500,000s, the community's four floor plans range from 2,286 to 3,948 square feet of living space with three-to-six bedrooms and two-and-a-half to five-and-a-half baths. Along with SMART home features throughout the home, homeowners also enjoy a variety of flexible living spaces including multi-generational suites, bonus rooms, SOLAR, lofts and indoor/outdoor upper decks, per plan.
Enjoy all the amenities that come with an exciting Delta lifestyle at new River Islands communities from Kiper Homes. To learn more, visit www.KiperHomes.com.