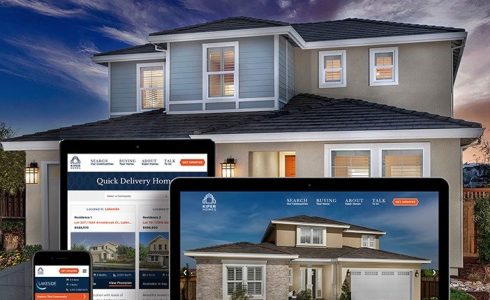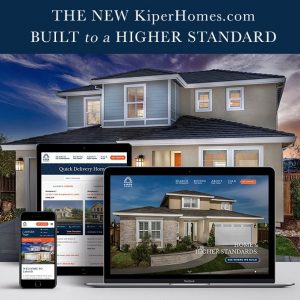 Northern California home builder Kiper Homes prides itself on building quality new homes to a higher standard. The builder's commitment to quality and providing a superior homebuying experience has made Kiper Homes a prominent name in the homebuilding industry.
Keeping with providing a superior homebuying experience, Kiper Homes recently worked with Graphic Language to craft a more superior online experience for home shoppers. According to Graphic Language, the new website engages buyers immediately and effectively communicates the Kiper Homes "higher-standard" brand, messaging and overall buying experience.
A Contiguous Brand Experience
Brand consistency is crucial to brand recognition and building consumer trust. A recurring theme across all marketing efforts also helps make a brand feel more dependable. The new website mirrors the offline Kiper brand to create a cohesive overarching brand experience for Kiper customers.
Designed with Search in Mind
The SEO-focused strategy and design increase the builder's visibility on search engines. To maintain past Search Engine Results Page (SERP) value, the new website also incorporates a portfolio of past communities.
Engaging Interactive Content and Homebuyer Tools
The new website seamlessly integrates third-party interactive site maps and floor plans to allow homebuyers to customize their home shopping experience.
Robust Community and Product Management
A community microsite approach highlights the unique product offerings of new home communities for sale and rent in a seamless, browser-friendly manner on the frontend and an easy-to-manage manner on the backend.
The Need for Speed
Performance-focused backend technology is what is "under the hood." The site is built for quick page load times, especially on high traffic pages like the home page, move-in ready homes, media gallery and community microsites.
Industry-Leading Back-End Functionality
smartEDIT 4.0, the latest and greatest builder-centric Content Management System (CMS) from Graphic Language, has been customized to allow the Kiper sales team to use the new website as a supercharged direct sales tool.
Visit the new website here and explore the new KiperHomes.com for yourself!