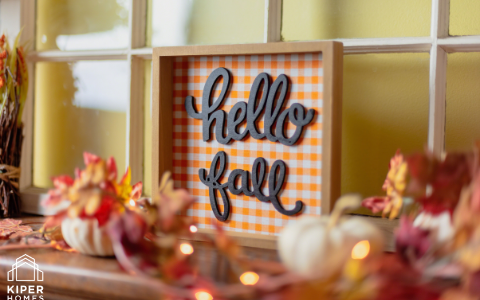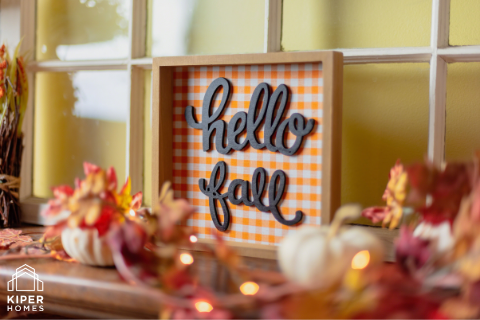 Fall is known as the season of change, so why not change up your home's décor to match the excitement of the season? While it may not feel quite like fall outside yet in Northern California, there are countless ways to create the feeling of fall indoors.
Here are a few quick and easy fall décor tips to incorporate in your new Kiper home.
Loose Leaves
Bring the outdoors in this fall with some loose-leaf décor. Autumn leaves can serve as beautiful centerpieces within the home when done correctly. Vases filled with colorful fallen leaves, dried flowers, pinecones, branches and other fall elements are an excellent way to create a fall centerpiece for the dining room, fireplace mantle or hallway table.
Add Textures
Fall is a great time to play around with textures that add depth and warmth to the home. Simple woven baskets can add a surprising amount of seasonal spirit to the home while vintage glassware can add a uniquely elegant touch. Textures can also be easily incorporated in the form of velvet pillows, metal finishes and rustic wood grains.
Think Fall Colors
Keep the fall color scheme in mind when shopping for seasonal home décor. Fall is known for its beautiful earthy tones like burnt orange, rich brown, dark olive, deep burgundy and mustard yellow. Go for pieces like pillows, rugs, throws, plants and other items that showcase those colors to create a fall-inspired setting in your own home.
Layer Pumpkins
Don't stop with a single pumpkin on the doorstep. Continue the pumpkin theme inside by layering these festive gourds throughout the home. Pumpkins come in several varieties and can be placed anywhere from bookshelves and hearths to kitchen islands and staircases. You could even try stacking them or grouping them together for added visual interest.
Get Cozy
Swap out those light linens and summer pillows for heavier, warmer options. With the weather slowly but surely getting cooler, homeowners are likely to want cozier décor that feels more like fall. Lay a chunky knit blanket across the top of the couch and be sure to add a few leather or faux fur throw pillows as well. Of course, don't forget the essential seasonal candle.
Edgy and Moody
Ever wanted to play around with a more edgy or moody style? Well, fall is the perfect time for just that. Naturally edgy accents like raw wood tables, benches coasters or wall décor offer an unprocessed look with natural grit. Pair these pieces with black and smoky gray tones to create a moody fall vibe that can even last long into the winter months.
Kiper Homes provides the perfect blank canvas for décor of all seasons. To learn more about Kiper new home opportunities throughout Northern California including Hollister and Lathrop and coming soon to Manteca, visit www.KiperHomes.com.